How To Use This Playbook
This Universal Design Playbook was created with the purpose of providing easy access to planning and facilitating universal design development work, whether it is short workshops or longer work sessions. That comes entirely down to what the user selects using the sorting functions on the page.
The Playbook contains a collection of methods that can be used in any design process. Each method contains useful information so the user can be certain that they are selecting the most appropriate method to fulfil their purpose. The methods also include tips for how to accommodate participants with diverse abilities to ensure that everyone feels included in a workshop setting no matter what they are capable of.
How to use the main page
How to use the method pages
How to generate a workshop
The Procedure
Using the sorting functions will help you navigate the method collection depending on where you are in a development process as well as within a specific workshop setting. If you do not click any of the sorting functions you will see an overview of all of the methods.
Empathy sorting function will lead you to methods that you typically use before entering the design process to create an understanding of your user group and the challenges and opportunities they might be dealing with. This function is especially important when doing universal design
Where in the process are you?
That sorting function is based on the Double Diamond and is helpful if you know that you, for instance, want to plan a workshop where you are going to be exploring the problem area, or where you are going to explore ideas. The page will then sort out the relevant methods for those stages of the double diamond.
What type of methods to you need?
Will help you select methods within a workshop setting that are specifically for warming up, or for generating ideas or for choosing a concept – the three typical stages of a workshop.
When you find a method you would like to use you can click it and see the method description where you can quickly see the purpose of the method and determine whether it matches the purpose you are working towards. In addition each method contains all the information and ingredients you need for facilitating that method:
Short tutorial
Step-by-step instructions
Inclusivity tips
Goes well with
Materials needed
Template
Accommodation tips for different abilities
When you choose a method you simply click the Add to favorites, or click the star, and your method selection is saved. Once you have chosen all of your methods you enter your favorites 'basket' and will see a timeline where you have the option to shuffle the order of the methods. Once you are satisfied with your timeline you choose Download Workshop plan and you are ready to go – with a PDF file containing your methods gathered in a workshop plan, the templates needed as well as facilitation tips.
Have fun!
---
Excerpt from Valgeirsdottir, D. (2021) Promoting an inclusive mind-set through method support: Universal Design Playbook. Conference proceedings ISPIM Innovation Conference, Berlin
The Universal Design (UD) Playbook aims at supporting its users to organize and prepare for hosting design processes and workshops, with an additional layer of inclusivity tips and reminders. The UD Playbook is an online tool (www.universaldesignguide.com) and the Ability Prompt Cards are one of the important elements that add the inclusive layer to what the UD Playbook has to offer. In inclusive design it is a tradition to work with e.g. inclusive and extreme personas in order to design for the edges (Coleman et al., 2016). Being inspired by that tradition we, however, chose to 'reverse engineer' the extreme persona and rather extract abilities and corresponding disabilities to create a deck of cards called Ability Prompt Cards, see Figure 1.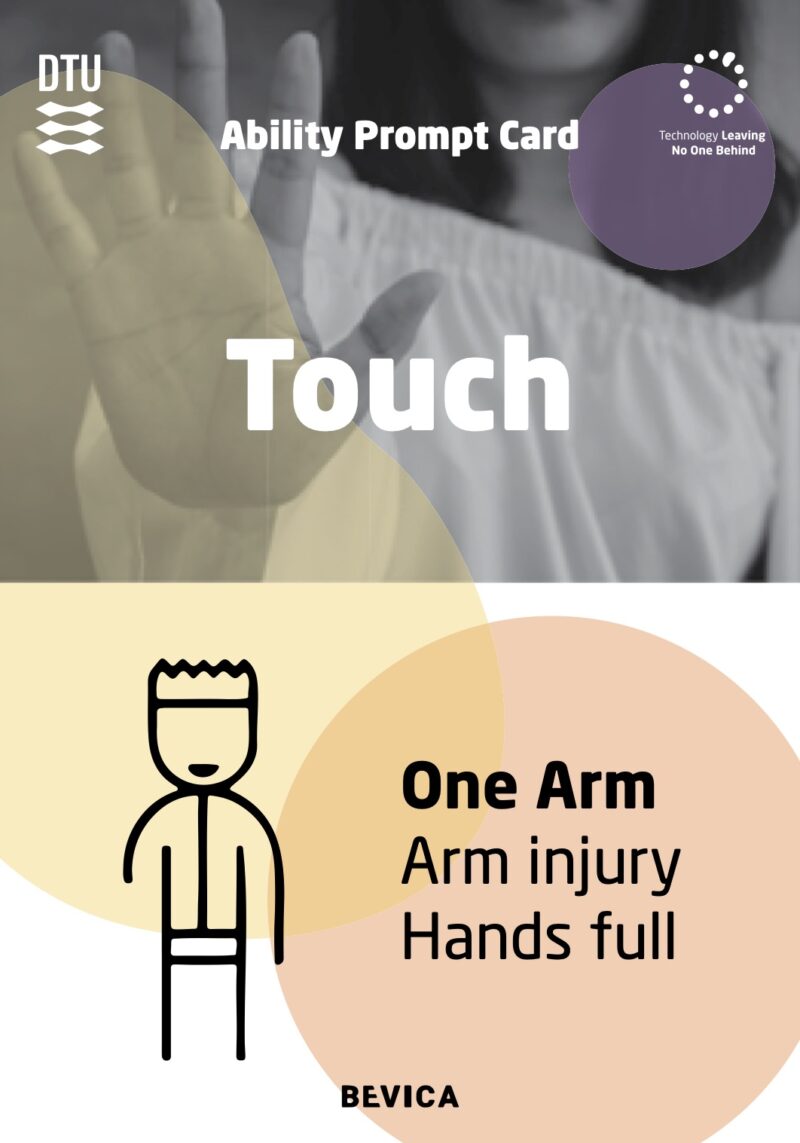 The cards can be applied as constraints to guide either ideation, to challenge biases, or to evaluate concepts and solutions. Constraints have been shown to enhance creativity (Onarheim and Valgeirsdottir, 2017) and therefore we theorize that using the cards as constraints can enable more creative and more inclusive solutions. The cards are used as prompts from the start on the landing page to serve as reminders to foster empathy for diverse users, as well as to challenge how solutions could scale up to a broader user group
Traditional online toolkits offer a selection of design methods, and some provide sorting functions to navigate the method collection. The UD Playbook also offers that; containing a large (40>) collection of design methods, both traditional ones as well as ones that are specifically recommended when developing inclusive solutions, and has three sorting functions to find the appropriate methods for the task at hand. The reason for it being called a playbook is that in addition to the method collection it offers more guidance in the form of tutorials, has a large selection of informational material for educational as well as inspirational purposes to inspire inclusive solutions, guides towards a workshop plan and provides facilitation tips. Each method has a comprehensive method description including step-by-step guidance, a tutorial, a template, and most importantly inclusivity tips.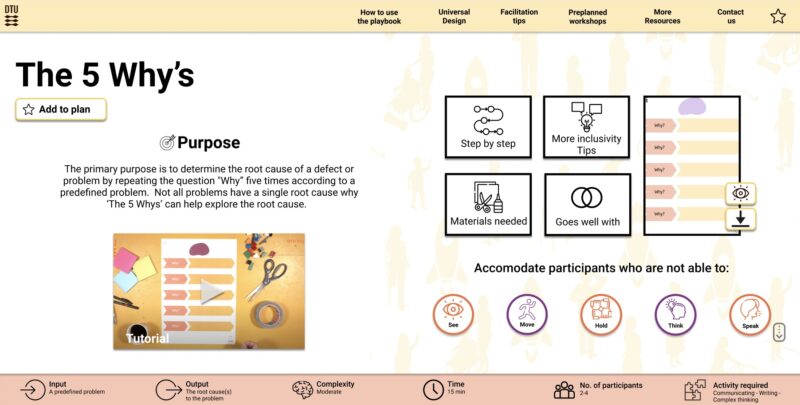 As can be seen in Figure 3 the method description pages include prompts (circles) serving as a reminder to consider who the participants are and which abilities they have, indicators for which abilities will be required when performing the method and guidance for how to accommodate participants who have limitations with those abilities, as well as indicators for cognitive complexity. Therefore the UD Playbook works towards not only supporting the development of inclusive solutions for end users, but aims at also generating inclusive methods and workshops for developing said solutions.
When the user of the UD Playbook has selected the methods they will use in their work the website generates a customized workshop plan, including method descriptions, templates and facilitation tips, which can be downloaded as a PDF file.